You've got
Talent!
We're all good at something.
It's not always easy to find your calling in a freelance business.  Some people hear it loud & clear (like blasting, volume 20+) while others need a little help discerning what their life's work will look like. 
For some, it's about wanting to do meaningful work, for others it's the freedom to make your own schedule, while for others… it's all about the Benjamins.  
Identifying my why was simple:  I was a single mom with experience & talent with no childcare, & a need for total flexibility in my schedule.  
Step One: I want you to download this simple worksheet so we can brainstorm some ideas for launching your freelance business.
My whole adult life I've always been good with kids.  I studied education in college and after giving classroom teaching a turn, I started my own tutoring & piano studio in the front office of my home.  I loved it — I could choose who I worked with, create my own schedule, AND do it all with my young daughter in the room.
On the side, I had this hobby thing called "a blog" and in 2009 someone told me that I could make money with my stories.  In 2010, I started working on marketing projects affiliated with blogging that grew into something entirely new.
Why am I telling you all this?  Because it's okay for you to grow and change.  That blogging hobby I started launched me into a totally new space where I honed my design skills, constantly playing & building sites, designing invitations & graphics, and started tinkering with everything digital.
In 2015 when I found myself a single mom with two small children at home, I did exactly what I'm asking you to do – I made a list.  When a pattern emerged, I knew that I had found a freelance business that would work for me.
For me, all those years of creating content, telling stories, taking photos, & dabbling in web design paid off as I launched my own freelance business providing marketing & web design to small businesses in my area.
Not once has anyone asked me if I have a degree in web design or social media marketing.  I didn't even have a cell phone in college & web design was just a bunch of html code that I played around with in the computer lab.  Your PROOF is in your WORK.
You don't always need a college degree in a specific content area to be successful as a freelancer, but you do need to stay informed of current trends and always strive to learn something new.
I want to know what patterns emerged for you.  Join me in our Facebook group & introduce yourself and your ideas!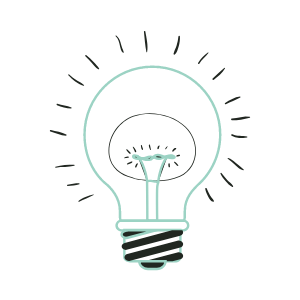 "When I stand before God at the end of my life, I would hope that I would not have a single bit of talent left, and could say, 'I used everything you gave me."
– Erma Bombeck