The world of freelance writing offers an abundance of opportunities to make a good living by producing high-quality content for various clients. However, with so many different niches to choose from, it can be challenging for new freelance writers to identify the most profitable and fulfilling areas of work. In this comprehensive guide, we'll explore the best freelance writing niches and how to leverage your skills and interests to maximize your potential earnings and job satisfaction.
13 Best Freelance Writing Niches for Maximum Profit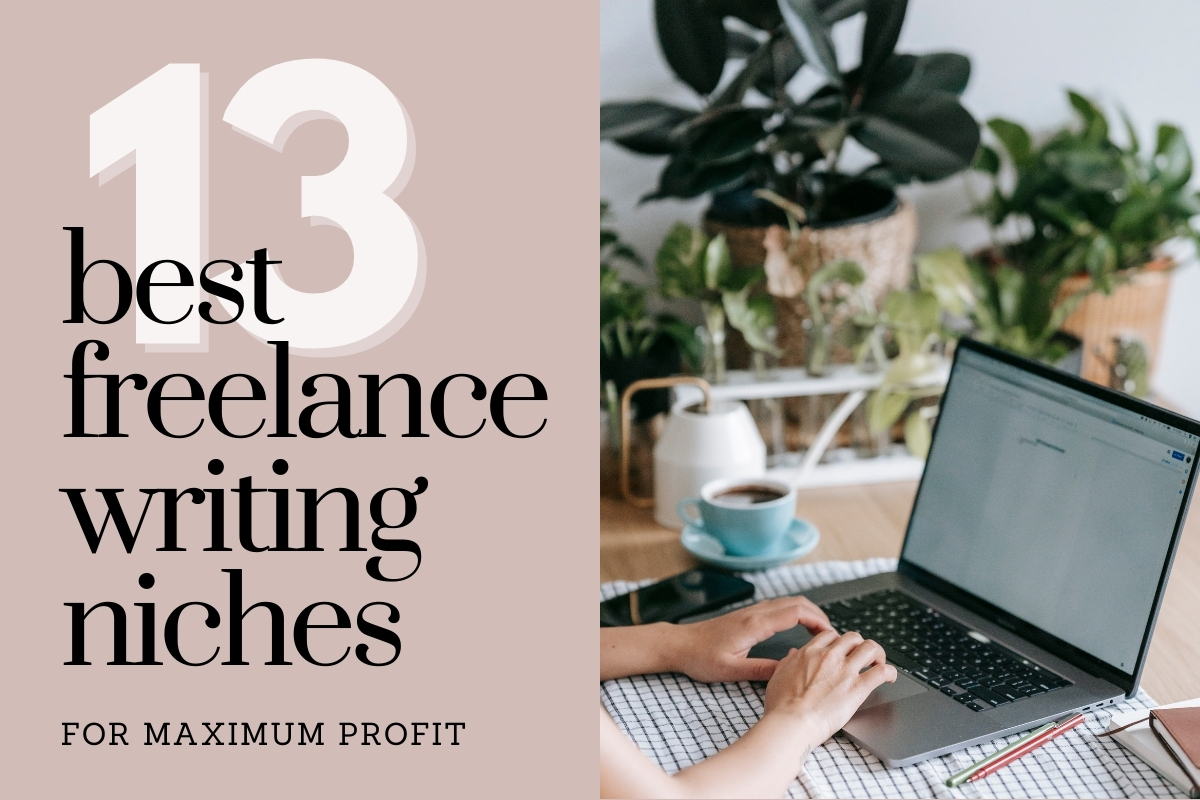 Digital Marketing and SEO Writing
Digital marketing is a thriving industry that encompasses search engine optimization (SEO), social media marketing, content marketing, and other online strategies to reach potential customers. A lucrative freelance writing niche, SEO writing focuses on creating content optimized for search engines, helping businesses rank higher in search results and attract more potential clients.
To excel as an SEO writer, you'll need to understand best practices for keyword placement, meta tags, and other technical aspects of search engine optimization. The good news is that there is a high demand for skilled SEO writers in the United States and beyond, making it a great way to earn a steady income.
Long-Form Blog Posts and Articles
Long-form content has become increasingly popular as businesses recognize the value of in-depth, well-researched articles that engage their target audience and improve search engine rankings. Long-form blog posts, typically ranging from 1,500 to 3,000 words, require more research and planning than shorter articles, but they often command higher rates.
To succeed in this profitable niche, you'll need excellent research skills, the ability to craft engaging narratives, and a commitment to producing high-quality content. You can specialize in a specific topic, such as personal finance, alternative health, or personal development, to further increase your earning potential.
Technical Writing
Technical writing involves creating user manuals, guides, and other instructional materials to help readers understand complex products, services, or processes. This niche typically requires a strong understanding of a particular field, such as software development, engineering, or science.
Although a college degree in a related discipline can be advantageous, it's not always necessary. Many successful technical writers have acquired their expertise through personal experience, self-study, or on-the-job training. The high demand for technical writing services, combined with the specialized knowledge required, means that you can charge higher rates and enjoy a steady stream of work.
Beyond user manuals and guides, technical writers can also specialize in creating technical documentation for software, hardware, and other technology-related products. This niche requires a deep understanding of technology, as well as the ability to communicate complex concepts in an easy-to-understand manner. As technology continues to advance rapidly, the demand for skilled technical writers remains strong, making it a profitable niche for freelance writers.
Case Studies and White Papers
Case studies and white papers are valuable marketing tools for businesses, showcasing their products or services' effectiveness and providing in-depth analysis of complex issues. These content types require strong research skills, the ability to distill complex information into clear and concise language, and a knack for storytelling.
Companies are willing to pay top dollar for well-crafted case studies and white papers, as they are essential in building credibility with potential clients and establishing themselves as industry leaders. This makes it a highly lucrative freelance writing niche.
Online Courses and Educational Materials
The online education industry has exploded in recent years, with countless businesses and individuals seeking to share their expertise through online courses, e-books, and other educational materials. Writing for this niche involves creating lesson plans, course materials, and supplemental resources that help learners acquire new skills and knowledge.
As a content writer in this niche, you'll need a deep understanding of your subject matter and the ability to break down complex concepts into easily digestible content. A background in teaching or instructional design can be beneficial, but it's not a requirement for success. The demand for well-crafted educational content is high, making this a profitable niche for freelance writers.
Personal Finance and Credit Cards
Personal finance is a popular and profitable niche for freelance writers, covering topics such as budgeting, investing, retirement planning, and credit cards. With many people seeking advice on managing their finances, there's a high demand for knowledgeable finance writers who can provide actionable tips and strategies.
To excel in this niche, it's essential to have a solid understanding of financial concepts and best practices. You don't need a degree in finance to get started, but a genuine interest in the subject and a commitment to staying current with industry trends will serve you well. Writing about credit cards, for example, requires staying up-to-date on the latest offers, rewards programs, and best practices for responsible credit use.
Press Releases and Business Communications
Press releases and business communications are essential for companies looking to make announcements, launch new products, or share news with their target audience. Writing press releases requires a specific style and format, ensuring that the content is newsworthy, concise, and engaging.
Business communications can encompass a variety of content types, including internal memos, company newsletters, and annual reports. As a freelance writer in this niche, you'll need strong attention to detail and the ability to tailor your writing to the specific needs of your clients.
Real Estate and Property Writing
Real estate is a thriving industry, and agents, property management companies, and developers are always in need of high-quality content to promote their listings and services. Real estate writing can include property descriptions, neighborhood guides, market updates, and other related content.
As a real estate writer, you'll need a solid understanding of the industry and excellent research skills to create engaging and informative content for potential buyers and sellers. This niche can be quite lucrative, as many real estate agents are willing to pay premium rates for well-crafted content that helps them attract new clients.
Travel Writing
Travel writing is a popular and potentially profitable niche for freelance writers who enjoy exploring new destinations and sharing their experiences with others. Travel content can include destination guides, hotel reviews, travel tips, and personal narratives.
While travel writing can be competitive, with many aspiring writers vying for coveted assignments, the good news is that there's no shortage of opportunities for skilled and persistent writers. You can write for travel magazines, websites, blogs, and even create your own travel-themed email list or blog to monetize your expertise.
Being a travel writer can extend beyond destination guides and hotel reviews to include content for travel agencies, tourism boards, and airlines. Freelance travel writers may also be asked to create itineraries, travel essays, and even content for travel-related apps. As the travel industry continues to grow, the demand for engaging and informative travel content remains high, providing ample opportunities for freelance travel writers.
Video Script and Sales Page Writing
As video consumption continues to grow, more businesses are incorporating video content into their marketing strategies. Video script writing involves creating engaging video scripts for promotional videos, tutorials, and other visual content. This niche requires strong storytelling skills and the ability to write concise, compelling copy.
Sales pages are another lucrative content type, designed to persuade potential customers to make a purchase or take another desired action. Writing persuasive sales copy requires a deep understanding of your client's target audience, product, and marketing goals.
Medical Writing
Medical writing involves creating content for the healthcare industry, including articles, research papers, patient education materials, and regulatory documents. This niche requires a strong understanding of medical terminology, research methodology, and the ability to present complex information in a clear and concise manner. Medical writers are in high demand due to the ever-evolving nature of the healthcare industry, making it a highly lucrative niche.
Grant Writing
Grant writing involves crafting proposals for non-profit organizations, educational institutions, and other entities seeking funding from government agencies, foundations, and private donors. This niche requires strong research skills, persuasive writing abilities, and a keen understanding of the specific requirements and guidelines set forth by funding organizations. Due to the potential impact of grant funding on an organization's success, grant writers can command high fees, making this a profitable niche for professional writers.
Ghostwriting
Ghostwriting entails writing content for clients who require a professional writer's expertise but prefer to publish the work under their own name. Ghostwriters can work on various types of content, including books, articles, speeches, and even social media posts. This niche is particularly appealing to professional writers who are skilled at adapting their writing style to match their client's voice and preferences. Ghostwriting can be a highly lucrative niche, as clients are often willing to pay a premium for well-crafted content that effectively conveys their message.
How to Choose the Right Freelance Writing Niche
Choosing the right freelance writing niche is a crucial first step in building a successful and profitable career. By focusing on one or more of the niches outlined above, you can leverage your skills and interests to attract high-paying clients and enjoy greater job satisfaction.
Remember, the best freelance writing niches are those that align with your passions, expertise, and market demand. Don't be afraid to explore different niches and experiment with various content types to find the perfect fit for your unique talents and goals. With dedication, persistence, and a commitment to continuous learning, you'll be well on your way to building a thriving freelance writing business in no time.
Tips for New Freelance Writers
Identify Your Area of Expertise and Passion
As a new freelance writer, it's essential to find a specific niche that aligns with your interests and expertise. This will not only make your work more enjoyable but also increase your chances of finding a good fit with potential clients.
Build a Strong Portfolio
Having a solid portfolio is crucial for showcasing your skills and expertise to potential clients. Include a variety of content types that demonstrate your versatility and ability to adapt to different writing styles.
Network and Leverage Social Media Platforms
Networking is a powerful tool for finding writing jobs and building relationships with potential clients. Attend industry events, join online communities, and engage with fellow writers and potential clients on social media platforms.
Utilize Job Boards and Freelance Writing Websites
Job boards and freelance writing websites are excellent resources for finding new writing opportunities. Regularly browse these sites and apply to jobs that align with your niche and interests.
Hone Your Writing Skills
Continuously work on improving your writing skills and staying current with industry trends and best practices. Consider taking courses, attending workshops, or participating in webinars to expand your knowledge and keep your skills sharp.
Create a Business Plan
A well-thought-out business plan can help guide your freelance writing career, setting goals, and outlining the steps needed to achieve them. This plan can also help you stay focused and motivated as you work to grow your business.
Develop a Strong Online Presence
Having a professional website and active social media profiles can help you showcase your work and attract potential clients. Make sure your online presence is cohesive and accurately reflects your personal brand and area of expertise.
Learn the Art of Pitching
Pitching is a crucial skill for freelance writers, as it helps you secure new clients and writing jobs. Learn how to craft compelling pitches that effectively communicate the value you bring to potential clients.
Diversify Your Income Streams
While specializing in a specific niche can be highly profitable, it's also essential to diversify your income streams. Consider offering additional services, such as editing, proofreading, or even consulting, to supplement your writing income.
Be Persistent and Resilient
Building a successful freelance writing career takes time, effort, and persistence. Don't be discouraged by rejection or setbacks. Instead, use these experiences as opportunities to learn, grow, and refine your approach.
Exploring different profitable writing niches, such as medical writing, technical writing, and travel writing, can help you find the perfect fit for your skills and interests. By following the tips outlined above, new freelance writers can set themselves up for success and enjoy a rewarding and lucrative career. Remember, persistence and dedication are key to achieving your goals and building a thriving freelance writing business.
[/et_pb_text][/et_pb_column][/et_pb_row][/et_pb_section]